Taking Mushan to Greater Heights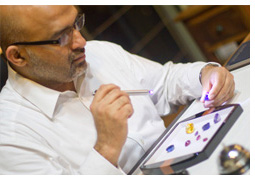 Mr M. Muslim Salahudeen, founder and CEO of Mushan, began his career as a gem trader when he was a young teenager. While still in school, he started making weekly trips to Beruwala (a coastal Sri Lankan village famous among whole sale gem traders). Using his pocket money, he started trading gemstones.
As his reputation for hard work and reliability grew, so did young Mr Salahudeen's desire to explore the exciting international gemstones market. He started visiting key gem-trading cities across Asia, Europe, the Far East and the U.S. Over time, he built strong partnerships with top international gem traders and jewellers.
Mr Salahudeen's passion for fine gemstones eventually led to the founding of Mushan. With a long-term perspective in mind, he decided to strategically focus on Sri Lanka's premier gemstone, the sapphire. Mr Salahudeen is globally renowned for his selection of fine colours in Mushan sapphires.
Mr Salahudeen's cordial relationships with the best gem miners in Sri Lanka, his reputation in the global gem-trading world, and his attention to detail have been the driving forces behind Mushan's success. Today, Mushan is a globally well-respected name and is admired for its uncompromising quality standards, professionalism and integrity.